---
From
Alan Baukham
:-
Had to look long and hard at these photos and started to recall all the events that have taken place there and all the changes from Alf`s café/maintenance room to the Swc Supervisors office /rest room to TV HQ test room. I think the desk would have been under the main building and the monitor racks outside. I know we had shutters on the windows to safe guard against bombs. Now we know what it might have looked like if one had gone off...Alan (PS and all those years we had spent in effect sitting on top of the strong hold. How are they going to deal with that?)
---
Tony Hoskin
reminds me in an e-mail:-
P.S. I also recall we never had time to line up satellite feeds unless there was a pause in proceedings. They were so expensive that you
offered it on immediately - sometimes ICR had idented bars/tone and were running before you could even do that! We tweaked on the ITS if there
was one - and hope it was inserted near the source - otherwise use syncs and burst... and have a stab amp ready for the dispersion...
---
Steve Redburn
with early terrorist precautions:-
I recall that when the Welsh Language Society were active we had to work with the shutters down for some months.
During the Poll Tax riot the windows did get smashed and they fitted some better plastic film.
---
Mike Jordan
tells how he and
Ken Clayson
(yes him again) didn't want P&ID putting the new solid state matrices in the front row of bays in the app room (next to the coaxes). We were told that moving things around would cost too much.
So Ken and I moved ALL the main equaliser chains to the front bays over a weekend shift without loosing network at all. However I suspect that the musa barrells taped up in the floor ducts are there to this day!
They also moved everything on the 'House distribution' bay from the end of the maintenance room to SWC. Again was said to be too costly but he and Ken discovered that all the cables actually came from maintenance, through SWC, under the new bay before disappearing down through the floor. So actually it was just a cut-back operation.
---
Mike Jordan
remembers the best shifts were with
Mike Rushmere
as Supervisor. Mike always went to supper early so he could be back in time for 'Magic Roundabout' and so the engineer could get away quickly after 'Nationwide' well before his regular off-duty time.
Ah Nationwide and 'regional opt-outs. Hanging on to the opt-out key till the last few seconds before cutting the region's reverse vision off
General Election (1967 or 8?) On duty all night manning the South East switch (a remoted rotary from the app room of a matrix control). Scheduled close-down never happened so whole SWC left for a dawn walk down Oxford Street and into Carnaby Street.
Coming in one morning and the TIP from Fairseat (midpoint on Tolsford Eurovision link maintained by Field Group) ringing to say 'on generator'. Someone like
Gary Jay
rushed out there - only to find the Gypsies had stolen the last 200yds of the overhead power cable into the site.
---
Mike Steed
reminds us of the dangers of unguarded switches!!
The regional opt-out switches gained shaped, metal covers back in '76, (probably knocked up by Ivan).
So we now had to flip the covers up before switching the various BBC1 networks to TVC's TKs, to feed the local Nationwides.
When I asked why this cover had been added in such a hurry, I was told how the day before another engineer (no names, no blame) had dutifully
thrown the switches at 18:00:10. A minute later the EMX had lit up with the regional centres asking why BBC2 had gone from programme to pulse
and bar. Despite the cobwebs on them, my oppo had managed to throw the adjacent BBC2 opt-out switches.
The new covers gave the Supervisors the visual reassurance that the right network had been pre-selected.
19th October 18:39
---
Alan Baukham
admits he still has a key to SWC (though I doubt the door is locked - Mike)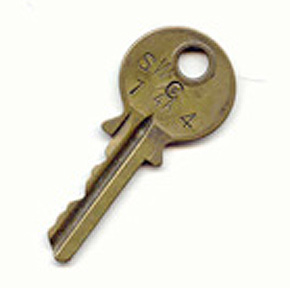 posted 22nd November 23:17
---
Mike Steed
corrects my names in the SWC staff listing and adds:-
Although Comms did have a Roger Kendall, it was Brian Kendall who was a Supervisor in SWC, until his tragic death, around 1977?
One memory of him concerns his reaction to the customary Christmas exchange of "interesting" material "for the lads" throughout the
Eurovision network. Brian was very short-sighted and (really) couldn't make out what his Engineer was getting all excited about, despite the
20" monitor being only six feet away. So, as usual when he needed to evaluate a picture problem, he got up and put his nose right against the
screen.
Apparently he registered no shock at what the couple were doing, but returned to his chair, calmly remarking to his (drooling) Engineer:
"That doesn't look very hygienic to me".
Posted 6th December 14:36
---
Mike Jordan
adds another cooment about BVK:-
I believe Brian was in the navy once and this may explain his comment one day.
Seeing someone with long sideburns (trendy in the 60s) He said "We used to call those buggars grips!!"
Posted 6th December 14:37
---
Ken Clayson
remembers:-
Funny how the human(?) mind works. Whilst looking at the piccies of the
remains of SWC and maintenance, I remembered the old lunch-time habit of
buying steak and kidney pies from the little grocers opposite the end of
Gildea Street and then cooking them in an "anglepoise sandwich" in
maintenance. I wonder if those old lamps survived until the end and, if
so, how much congealed pastry was released into the atmosphere when they
were binned.
Thinks: maybe that's why I'm now such a crusty old git.
Cheers,
Ken
Posted 22:51 27th December
---
Alan Baukham has yet more stories:

-
Whilst reading Richard Taylor's memories of jokes in ATA I recalled a little joke played on Gabriel Attah when he was doing the LOCO vision loop test. It was the time when the SWC pulse and bar ident generator produced a marker at the top and bottom indicating London Switching Centre. He sent this signal round the loop to find Birmingham SWC pulse and bar was coming out the other end. He had not noticed the slight of hand on the sync pulse generator feeding it which was being switched from 625 to 525. The effect was to knock off one of the markers.
Posted 22nd January 2007 23:54
---
Some stories garnered (sorry Roger) from UK.Tech.Broadcast newsgroup:-





Charles (Hope?)

wrote:-


I've yet to see one (RF distribution network)work what I'd consider perfectly. And I've seen plenty of RF distribution systems in studio complexes. Where I assume cost doesn't matter.


but, if you've seen them in BBC studio complexes, consider how many Studio Capital Projects people knew anything about RF.  Mike Lyons did - in the end.
(Mike Lyons did the SWC re-build).
Alan White
(Who Roger Jephcott informs me was
in SCPD and then went on to be MCES in GW. He once took Roger on a grand tour of Scotland's beeb places including Inverness and Aberdeen)
added in a later post:-
Mike (Lyons) was the Project Engineer for the video installation assisted by Mike Turner and Keith Sudel. I was the Project Engineer for the audio, comms and switching installation assisted by Dave Daborn and Graham (?).

I think it was the second time that we'd used a modular system of desk construction, the first being in Belfast CTA in
the late 60s. Prior to that, every desk panel was custom made for its application. This was expensive and inefficient in terms of Engineer/Draughtsman time and effort. Another Engineer, Denis Noble, who worked for me on the Belfast CTA project, and I decided to go for a set of standard modules which could be fitted into a desk to fulfil the operational requirement. We used ISEP frames and modules, decided that BBC ED24 grey was not a good colour in subdued lighting so went for a dark green (068 in BS2660?) with yellow engraving, round push buttons for executive functions, square buttons for non-executive and the cabling to every panel had to be long enough to allow that panel to be positioned anywhere in the desk. Roger Jephcott, who was the Ops. Manager(?) requested a rearrangement one week before the service date which was very easily accomplished. That would have been impossible using the old construction method.

I can't remember what we used for the audio matrix but it was probably Type 25 miniature relays which were in widespread use by then and had replaced the PO 3000 in most applications. The video matrix would have been a DD effort. One anomaly, which we had to overcome everywhere with a married audio/video matrix, was that DD, in their wisdom had
wired the control inputs to the video matrix in terms of the destinations and our audio matrix was wired in terms of the sources.
This was sorted out on PO tag blocks with the control cables from the audio matrix being wired to the column tags and the control wires to the video matrix being wired to the row tags (or the other way round).

Dave Daborn did a brilliant job on this desk. I think it was the most successful desk that we'd installed up to that time and, probably, since. Certainly there was a great deal of discussion about the layout and the fact that it was built virtually in situ helped a lot.
Mike Jordan added:-
The previous re-build was after the first DD solid state matrix came in. Controlled by 24way yaxley switches with a centre extra concentric switch to select 1-24 + 25 (P&B) as no-one made 25way break before make switches!!
That was after the first matrix install which was controlled from the 25way Ledex switches via the old video switching level as the other levels were still in use for audio and 'marking'
Roger Jephcott further added:- (something like this! - Iv'e lost the e- mail - Ed)
The desk made from separate panels came into it's own when it was discovered that SCPD had put the telephone handset panel to the right of the dial panel. Since most people are right-handed (no PC sillyness in those days - Ed) and hold the handset in their left, this is clearly the wrong way round. The Panels were easily interchanged and all was well.
Posted 4th January 2008
---
Mike Steed sends a picture of
HIS
SWC key with the comment:-
I was disappointed that Alan Baukham is the sort of sad, sentimental person that keeps a SWC key (no.14) for nearly thirty years after he left the place.
Everyone knows that my key, numbered 10, is far more collectable.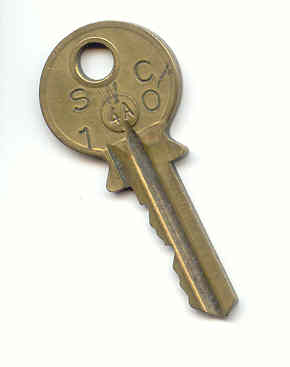 Posted 11th October 2007
---

Back to the stories index page
MJ 040108